Sarah Joe LeMessurier
Sarah Joe LeMessurier said that Depression era families could come to the park for a free outing. The goat and donkey rides were a great attraction. Sarah Joe and her brother took full advantage of the park, swimming at Lambert Beach, horseback riding lessons at the stable and then riding horses into the river and onto the shady trails. "How could I have been so lucky, as a child, to have had such glorious memories of the park."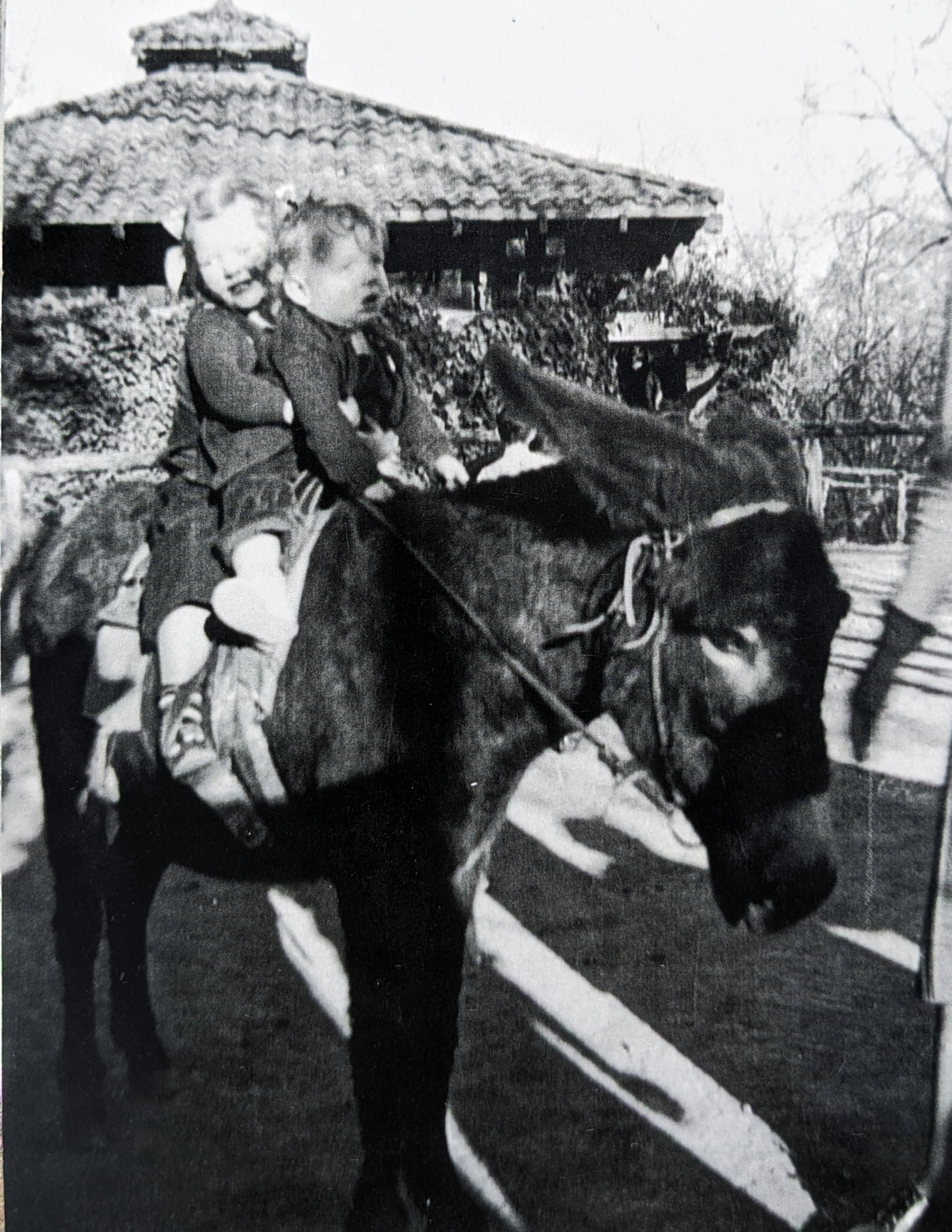 Sarah Joe Robertson LeMessurier; Forrest Roberson. Donkey rides in Brackenridge Park. 1938.
As remembered by Sarah Joe LeMessurier: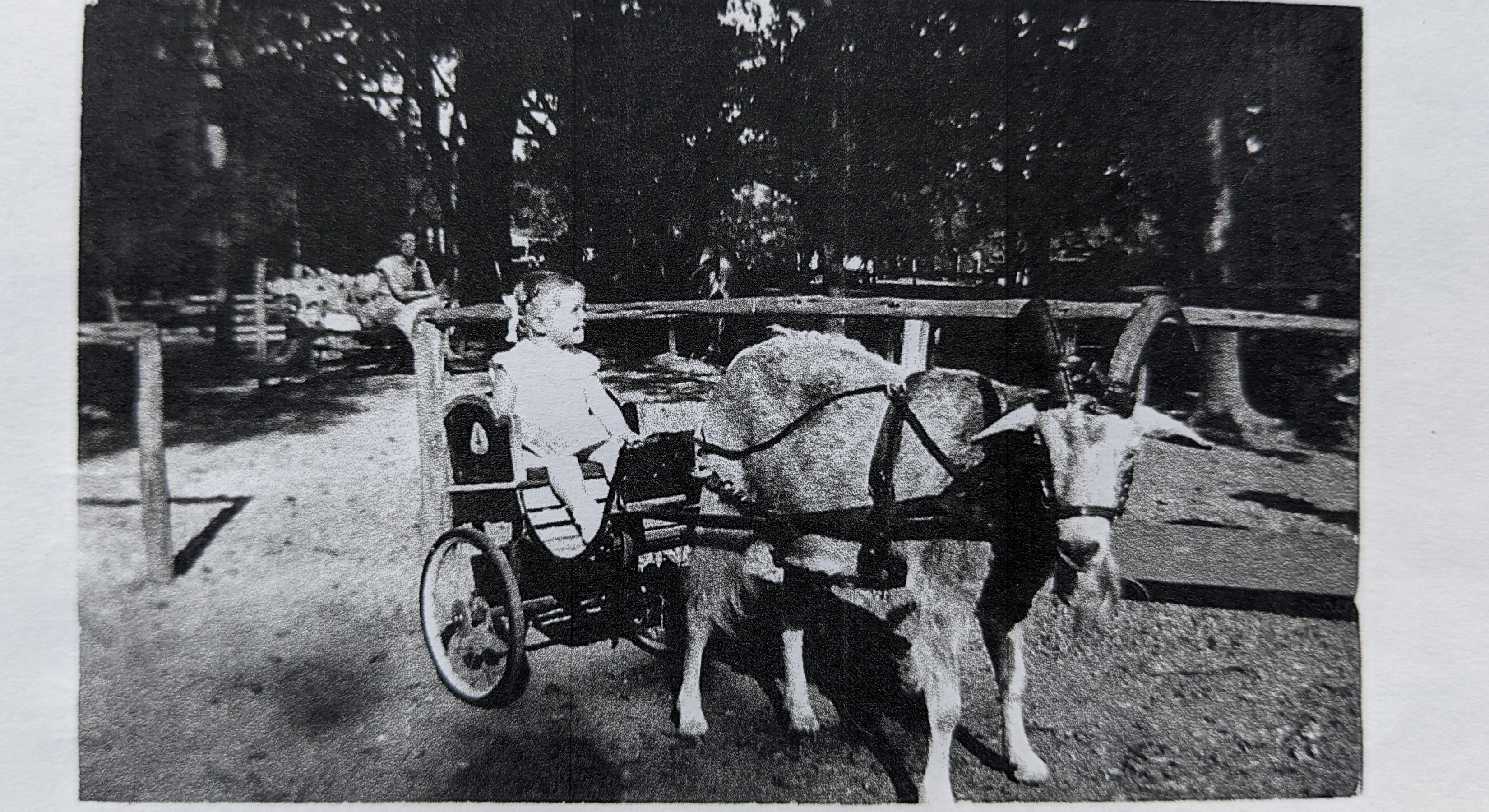 The picture is of me, 1938, age three, all dressed in my Sunday best for a goat cart ride in the park. There were goats before George…big Billy goats that pulled carts, as you can see. Brackenridge Park was a place where Depression Era families could come for a free outing. The goat carts, and the donkey rides were a great attraction in the Park.
I swam at Lambert Beach. We changed into our suits in the little dressing rooms that still exist on top of the pump house. Stone steps led down to the river, where, as I recall, there was a ledge where on could sit before getting in the water. Since the river had not yet flowed through the rest of the Park, the water was cool and clear.
As you drove into the park from Hildebrand, the Donkey Barn on the right really was the donkey barn where the little guys were waiting to be saddled for rides in the park to the delight of children like my brother and me.
In fact, I remember, too, on the left, the artesian spring that bought water straight from the aquifer, which bubbled up about three feet in the air and filled a lovely, shady pool, before flowing on into Lambert Beach to become the San Antonio River.
Farther on down into the park, there is a low water crossing that we begged my father to drive through whenever we were coming from downtown out to our home in Alamo Heights. He often refused because it would "get his brakes wet." But when he relented, my brother and I thought it was a great dangerous adventure.
For some unknown reason, my mother, a Mississippi farm girl, loved polo. Whenever there were matches scheduled, we pulled our car up right next to the field, which is now the driving range, and sat on the hood to watch the matches. I don't remember the names of the players, but I think some of the "biggies" of the sport were often playing there.
Horseback riding in the park? I did that, too. My mother, brother, and I took lessons at Brackenridge Park Stables. We took a short trail, between the edge of the driving range and the San Antonio River, to a spot where we rode our horses down a rather steep bank, into and across the river, and onto the beautiful, shady trails. This was also the adventure. Fast forward many years… when I was the sponsor of the National Junior Honor Society at Alamo Heights Junior School, we had our annual picnic in the Koehler Pavilion. Plenty of tables for our picnic supper, and wonderful opportunities to look over the wall at the river. Interesting how many Alamo Heights kids really didn't have much familiarity with Brackenridge Park.