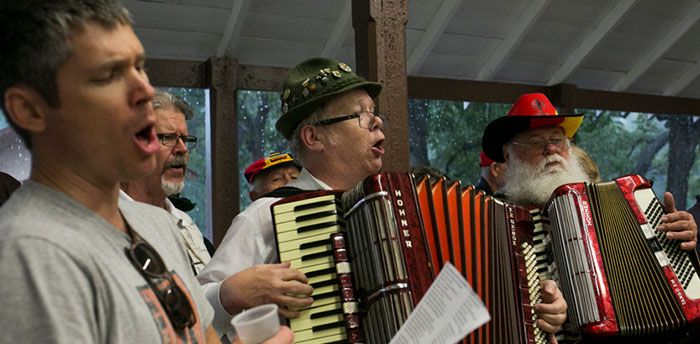 Rivard Report: Despite Rain, Parktoberfest Celebrates Brackenridge, German Heritage
Sep 24 2016 - Written By: James McCandless
Photo By: Kathryn Boyd-Batstone
Despite heavy rainfalls, a few hundred people streamed steadily into Koehler Pavilion to celebrate San Antonio's German heritage and Brackenridge Park. The sounds of traditional German folk music and the smell of craft beer and bratwursts filled the pavilion as stragglers from Síclovía and families enjoying themselves at the park strolled in.
The event was hosted by the Brackenridge Park Conservancy whose employees, alongside those of the Office of Historic Preservation (OHP), recorded people's memories of the park. The "Recuerdos de Brack" will be compiled and archived by the OHP.
Councilman Roberto Treviño (D1) sat down to record a recuerdo with City Archaeologist Kay Hindes. He said that while he grew up in McAllen, his childhood was centered around parks.
---
Back to News